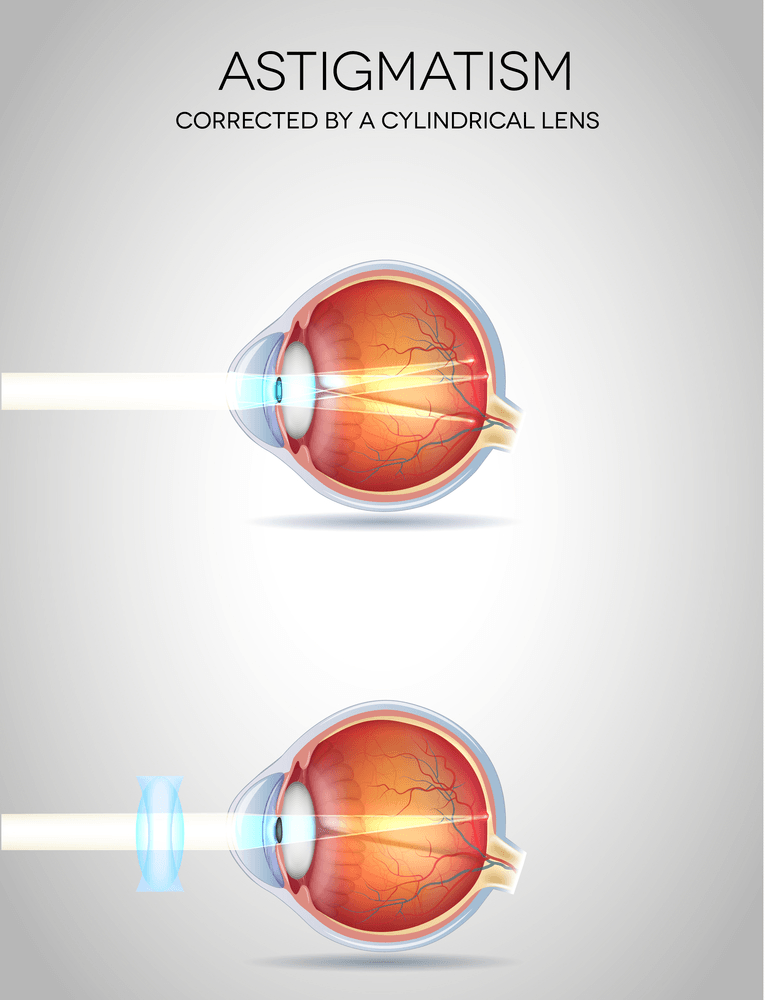 Astigmatism is a common refractive error that stems from problems with the shape of the cornea, the transparent layer forming the front of the eye. According to a US study, almost three out of every 10 children between the ages of five and 17 have astigmatism. It may also develop in the course of life, causing blurred vision. While it does not result in blindness, it can create certain problems and may require treatment. Come and see us at The New Jersey Eye Center in Bergenfield NJ if you suspect you might have astigmatism.
What exactly is astigmatism?
Astigmatism is not a disease but an imperfection in the eye resulting in blurred vision owing to the way the eye focuses on light. No matter what kind of astigmatism you are afflicted with, rays of light form two focal points instead one, thus affecting vision.
Types of astigmatism
The three main types of astigmatism are myopic, hyperopic, and mixed astigmatism. The type of astigmatism one has depends on whether the principle meridians of the eye are nearsighted or farsighted. The meridians are like the lines connecting 12 and six or three and nine on a clock face. The principal meridians are the steepest and flattest meridians of an eye with astigmatism.
Myopic astigmatism means that one or both eyes' principal meridians are nearsighted. So, the extent to which they are nearsighted differs.
With hyperopic astigmatism one or both of the principal meridians are farsighted to a varying degree.
Mixed astigmatism means that one of the main meridians is nearsighted and the other farsighted.
What causes astigmatism?
The cause of astigmatism is unknown. If a person is born with it, it may be hereditary. An eye injury or eye surgery may cause it to develop. When the cornea has an irregular shape like an American football rather than a symmetrically round one, this may give rise to astigmatism. Sometimes, astigmatism can be caused by abnormalities in the shape of the eye's lens. This is called lenticular astigmatism, as opposed to corneal astigmatism, which is the more common type.
Symptoms
Astigmatism tends to cause blurred or distorted distance vision to a certain extent. Astigmatism may be asymptomatic, but advanced degrees of it can cause symptoms such as blurry vision, double vision, squinting, fatigue, or eyestrain and headaches, especially after reading.
Correcting astigmatism
Astigmatism often does not need to be corrected. However, when it does, there are three ways to do it:
eyeglasses – the simplest and safest option
contact lenses – they may sometimes produce a better effect than eyeglasses, but they may not be right for everyone
refractive surgery – there are several types of refractive surgeries; but they all permanently change the shape of the cornea.
The correction option that your eye care specialist chooses for you will depend on your eye health, refractive status and your lifestyle.
If you think you might have astigmatism, we recommend that you have your eyes examined by one of our specialists. An eye examination will determine whether you have it, the extent of it and its axis. Feel free to contact us or simply walk into get your eyes checked for astigmatism.
Frequently Asked Questions – Astigmatism