CATARACT SURGERY
from our board certified, specialty-trained physicians in our full service surgical center
Cataract Surgery often takes between 10-15 minutes and is an outpatient procedure, which means there is no over night stay, no heavy anesthesia and very little down time. Our surgeons use the latest technologies to determine what your precise eyecare needs are; and offer an array of implant options for all patients and lifestyles.
We are proud to say that we are the first Medicare-approved, free standing Ambulatory Surgical Center in Northeast, New Jersey. Dr. Joseph Dello Russo skills as a surgeon pioneered the modern methods of Cataract Surgery as we all know it today.
Cataract care
With age, our bodies change. Visual impairment often occurs in the later stages of our lives. One of the main causes is cataracts, but for this particular problem there are solutions.
Cataracts cloud the normally clear lens of the eye, leading to blurred or misty vision. They typically occur in the sixth and seventh decades of life, slowly and subtly stealing a patient's vision. Sensitivity to glare, visual distortions, and difficulty in distinguishing colors may indicate that a cataract is developing.
There is no real way to avoid developing a cataract. Your general health, your genes, and diseases such as diabetes can contribute to the development of early cataracts.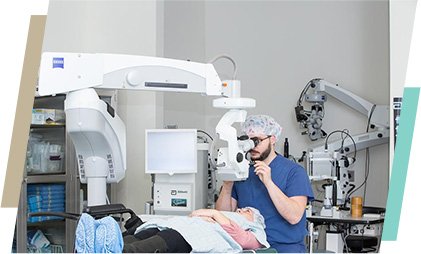 Our Center was established in 1978 and has performed over
50,000 Cataract Surgeries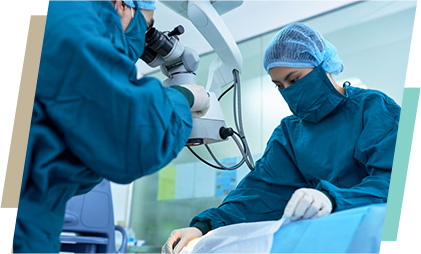 Cataract surgery costs
Cataract surgery costs are always a concern for patients. Many clients are on Medicare, on a fixed income. Some patients can't afford to get the new technology implants or the latest refractive cataract procedures. They often come to us from other practices where they have been subjected to hard-sell tactics.
We pride ourselves on doing efficient and cost-effective cataract surgery in New Jersey.
After a comprehensive assessment, we advise you on whether you may need surgery or not. We never recommend surgery unless it's necessary and in the patients' best interests. Quite often, for people with fairly good vision, we say: "Come back in a few months to see if the cataract has developed."
Get rid of glasses
One of our aims in cataract treatment is to help people to ditch their spectacles. As you know, older people are sometimes a bit forgetful and misplace their glasses, which can cause stress.
Our new lens-implant technology can obviate the need for glasses, giving the patient one less thing to worry about. Even our older patients have the chance to dispense with glasses for good.
State-of-the-art technology
We also pride ourselves on being able to provide premium technology to correct visual impairment and achieve the best results. If you qualify for cataract surgery you can rest assured that our equipment and instruments are of the highest standard.
Our clinic is a refractive practice. Our staff are highly qualified and trained, and constantly applying new, improved techniques.
We apply tried and tested evaluation and assessment techniques, and have an individualized approach to each patient.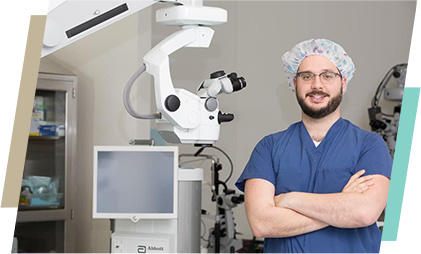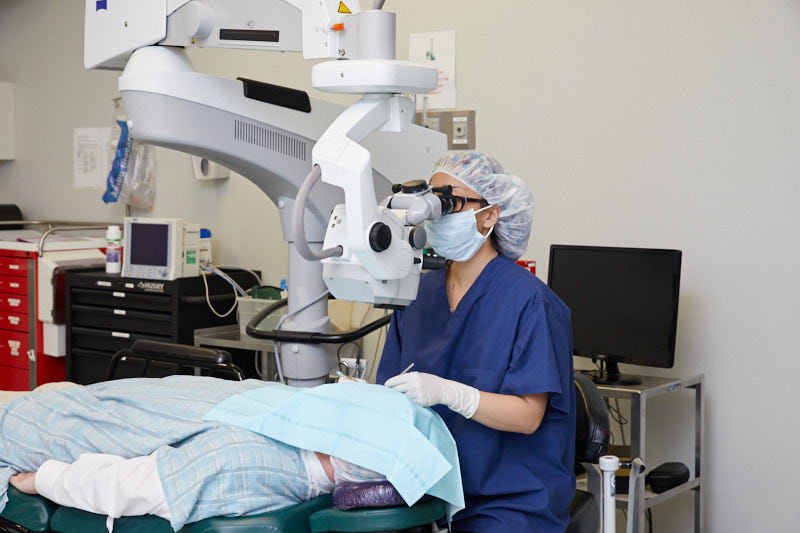 Patient-centered
We take cataract surgery very seriously and care for each patient's vision as if it were our own.
We're very patient-centered at the New Jersey Eye Center. We listen to our patients and do what they want. If a patient wants no frills, regular, cataract surgery, then we provide it.
However, if we think you qualify for cataract surgery to save your eyesight, then we'll tell you. We would not want a patient's cataract to linger and ripen for a long time if that could cause problems later. If your cataract is stable and not developing you may not need immediate surgery. We advise you whether your eyes require cataract surgery, and when to have it.
At the New Jersey Eye Center you can rest assured that we treat every patient like a member of the family. The other thing that sets us apart is the combination of our empathy with patients and our clinical acumen. We guarantee sensitive care, and our patient feedback suggests high satisfaction rates.
Don't worry – you're in safe hands
Our eye exams are carried out by a licensed ophthalmologist or optometrist. A complete medical vision exam can identify problems early on. Such examinations can determine whether you have a cataract needing surgery or not.
Welcome to our Center
TO SEE THE DIFFERENCE