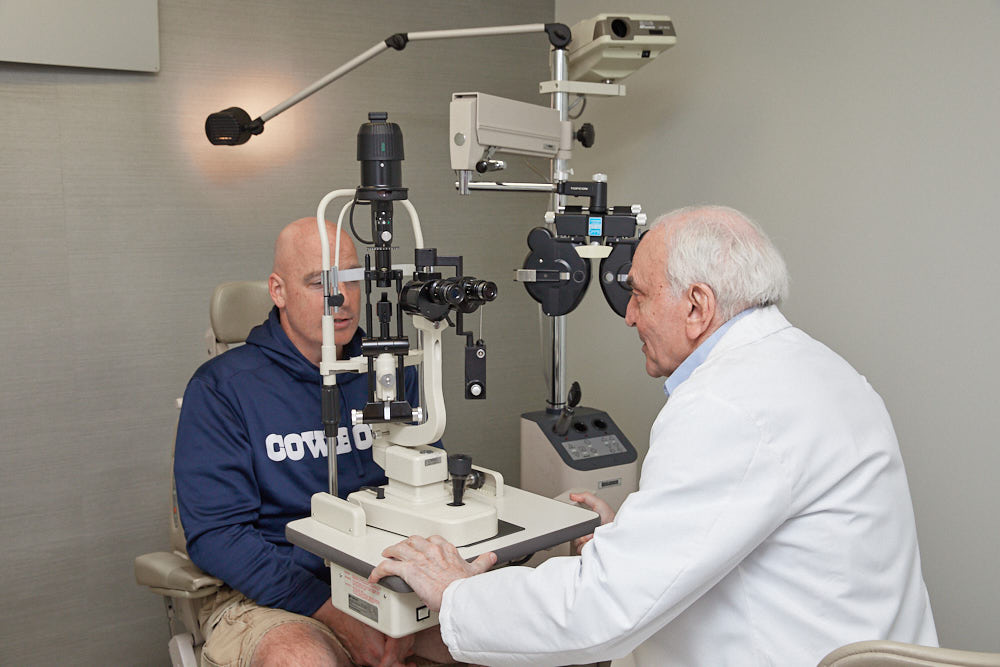 By Stephanie Dello Russo, New Jersey Eye Center
With the rise of corporate, hedge-fund owned LASIK centers in the metro area, there has been a spate of misinformation presented to potential LASIK clients. Often, these companies are headquartered in Canada, South Florida, and parts unknown. They are usually sheltered and highly protected by layers of bureaucracy.
Their ubiquitous and misleading advertisements, offering LASIK at $299 per eye, pop up to anyone who has previously searched for LASIK or anything related to LASIK on the web. Patients are understandably confused yet captivated by the idea that they could get laser vision correction for $299 an eye.
But nothing could be further from the truth. To their disappointment, when patients actually make an appointment and visit the center, they find out that the cost is in line with premier, physician-owned centers. Patients could be receiving the most advanced LASIK procedures with the safest technology, performed by world-class and highly experienced LASIK surgeons, such as Drs. Joseph and Jeffrey Dello Russo, for nearly the same price as that offered by the dubious outlets.
"There are fixed costs involved in performing LASIK safely, and the cost of our technology makes these ads sound ridiculous" said Dr. Joseph Dello Russo, of Dello Russo Laser Vision in Bergenfield, New Jersey. Dr. Dello Russo, a leading LASIK surgeon, also has centers located in Manhattan, downtown Brooklyn, and Lake Success, Long Island.
"A center advertising these prices is simply indulging in false advertising. I have found, over my twenty-nine years of performing LASIK, that the majority of patients are much too intelligent to fall for these bait and switch techniques. If these prices are anywhere near reality, the metrics involved in performing the procedure would put these centers out of business tomorrow. These LASIK centers change ownership with alarming regularity. I have experienced patients frantically landing in my offices with post-operative problems, after begging for treatment from some of these centers. On more than one occasion, centers like these have closed, shuttered their doors, and left patients who had the LASIK procedure fending for themselves in search of post-operative care." Said Dr. Dello Russo. He went on to state, that, "Many of these centers close, then re-open under another name, and the process repeats itself."
Several of my technicians who had previously worked with these discount, hedge-fund owned LASIK centers report what really takes place. The bait and switch begins as soon as the patients walk through the door. These centers are charging them for every single item included in our price, which is then extravagantly added to: drops, plugs, post-operative visits, and any addition which brings the price in line with ours. Often, the total price is more than premier centers charge.
Some of my staff can recount horror stories of doctors flying to multiple cities daily, then taking the red-eye back to the West coast that evening. No patient is looking for a jet-lagged LASIK surgeon to perform their LASIK. Others report that doctors found in California routinely fly to and from multiple centers throughout the country on a daily basis. The client meets the surgeon on the laser bed, never to lay eyes on them again.
Most hedge-fund owned centers are partnered with managers/owners who are ODs, (optometrists). They are not legally allowed to perform and operate the laser. These centers have figured out a way to skirt the requirements by employing a LASIK surgeon, who is willing to risk his license, for a nominal amount of money. This is frequently as low as $150 to $200 an eye.
These LASIK "shooters" are often asked to treat twenty to thirty patients in a short period of time in one location, and are then asked to fly off to another locations, often within the same day. These beleaguered doctors don't always have time to examine the patients themselves, having to rely on tech support instead, all in the interest of economy.
"Taking the physician out of the procedure is, in my view, downright dangerous. For those who would like to think LASIK is about pressing a button, and letting the laser do the work, I believe they are skating on extremely thin ice. You may get away with this by legislating the type of patients you choose (usually low-distance prescriptions with minimal astigmatism). But as every experienced LASIK surgeon knows, it is hardly as easy as people might think. Many ophthalmologists who thought they could dabble in LASIK, soon learn otherwise."  Said Dr. Dello Russo, one of the most preeminent LASIK surgeons working in America today.
The answer to why discount, hedge-fund owned and operated LASIK centers are appropriating our name and turning our centers into keyword click bait, is, quite simply, imitation.
These ads, which are not produced by us, and which feature Dello Russo Laser Vision, Dello Russo LASIK, Dr. Dello Russo, and any and all the misspellings of the name, aim to convince clients they are legitimate, and all for under $300.
Drs. Joseph and Jeffrey Dello Russo are the most recognized LASIK surgeons in the metropolitan area and perhaps even the East coast. Their name is synonymous with quality and innovation in LASIK. And as the old saying goes, 'imitation is the sincerest form of flattery.'